Dear Ladies,
After being surrounded by a ridiculously hysterical breed of people, my quest to establish peace with the demons inside me has reached a whole new level. Having heard volumes about the humanity still existing and the presence of good humans, the zest to encounter something of that genre has increased manyfold. The reason, perhaps, is the not so opportune countenance I have received from the hysterical breed.
Rather than going into the intricacies of the discomfort and subsequent displeasure I was subjected to, owing to their narcissistic demeanor, I would talk about the broader perspective which concerns with how to deal with such people.
How to Recognize Them?
1. With their ego-levels reaching cloud Nine and apparent emotional levels dug below the Earth's crust, this is one of the most commonly found breed on the planet.

2. You'll always find them acting selfish and defending their actions by phrases such as, "This is how I am", "I can't help it", "I cannot change myself."

3. Instead of lending you a helping hand at the time of need, they would pretend to lend you a helping hand. For instance, "I wish I could help but..", "I know you need me but..", "I really want to help you but.." The 'but', my friend, is their favorite word.
4. They would expect you to go out of your comfort zone and do things for them, considering themselves to be worthy of all the privilege. However, when the tables turn, they act agitated, annoyed and ignorant.
Now, that you are able to recall most people falling under this category, let us lay our focus on how to deal with egoistic / self-centered/ narcissistic people.
Time and again, you have been told to realize and acknowledge 'self-worth' and I am reiterating the same 'understand your worth'. Nobody knows you more than your ownself, therefore, always have unquestionable faith in your very being and let no one tell you otherwise.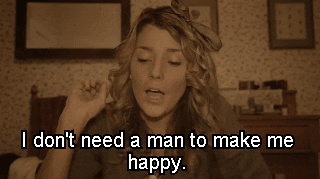 Obviously, I am not going to introduce you to some full-proof plan nor typical Five-Step Solution, neither am I going to enlighten you with any hidden rocket science. I will rather share with you something which you might already know but have forgotten.
1. Being Strong is not an Option, it is a necessity.

2. Cry, if you must, but after the last tear has fallen, hold your head up, take a deep breath and just know..you'll get through..

3. The more time you take in the beginning to choose the right man, the less time you'll waste, in the end, dealing with the wrong one.
4. You may not be where you want to be, but the truth is, you are nowhere near where you were. Be proud of that and continue on your journey to becoming the beautiful strong woman you know you can be.

5. Never waste your time trying to convince someone else of your worth. If they can't see it, they are not worth the effort.

6. Take control of your space. If they're not bringing something positive to your life, they are taking away from it.
And there you are the Bold, Beautiful and Magical Woman..